Users can now create password-protected and encrypted PDF files with a single click using the latest Black Ice Software Printer Driver Version 17.10.
Password protection is critical in preventing unauthorized access to PDF documents or to restrict sensitive operations on PDF documents like document viewing, editing, printing, and copying. The Black Ice ColorPlus and PDF printer drivers now offer an easy and simple way to enable or disable access rights to these features, helping to protect documents and their sensitive information.
The new password protection feature can be accessed on the Save As dialog and in the Print Manager window, giving users direct access to turn on and off document encryption. Previously the password-protection feature was cumbersome to configure and undo between print jobs, requiring multiple steps to enable or disable the feature.
Since adding the merge document feature to the Black Ice Printer Drivers, merging multiple documents into a single PDF has been a simple task, however, adding password protection to the final PDF document was still cumbersome and challenging to accomplish. The new Password protection feature can now also be directly accessed in the Merge document window, greatly streamlining the whole process for users.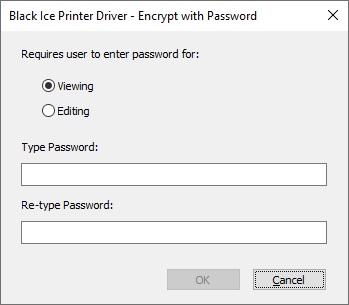 The greatest beneficiaries of the simplified single-click password protection and encryption process would be any industry that frequently needs to send confidential and protected documents in their day-to-day work such as; the medical industry, transportation, legal, finance (banking & insurance), and accounting.