Black Ice Printer Manager
Version number:
The Black Ice Printer Manager is a component of the Black Ice Printer Drivers which allows for centralized management of all Black Ice Printer Drivers installed on a particular system, allowing System Administrators and Users to control and configure the printer drivers through an attractive User Interface.
The Black Ice Printer Manager is available in the following Printer Drivers and is not available in the OEM versions: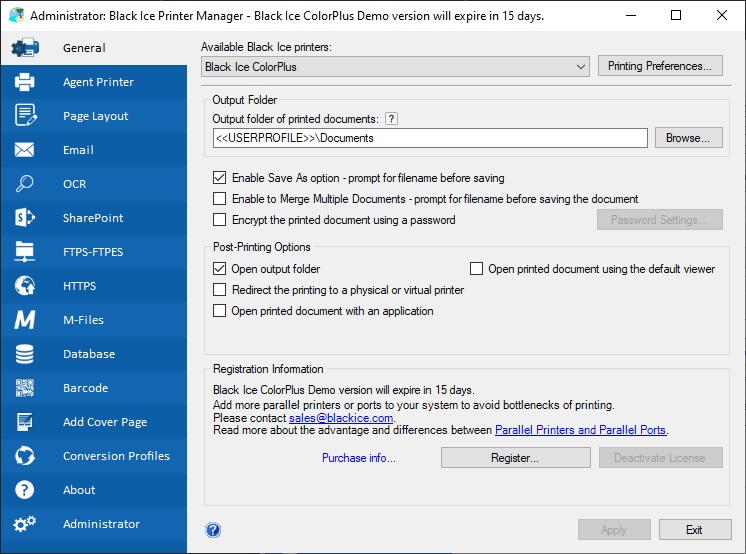 The General section contains the output folder and post-printing options, including output settings specific to the selected Printer Driver.
Under the Conversion Profiles the custom printer settings can be saved as a profile. The user can create several profiles. Profiles can be used later to load the custom settings, without having to manually change the settings every time.
The SharePoint® section provides the option for automatically uploading output files to a SharePoint directory, and includes input fields for the necessary information to access the SharePoint Server.
The Email feature provides the option to attach printed documents to an email. When the Email option enabled, the printed documents will be attached to a new Email and sent by the default email client or by an SMTP email account. One can configure the SMTP account and default email client settings through the Black Ice Printer Manager.
OCR (Optical Character Recognition) is the conversion of digitized documents into an editable text file. It is as widely used as a form of digital document processing for documents stored in Image file format such as TIFF, DICOM, JPEG, PDF, etc… to store, archive any kind of document such as invoices, medical records, sales receipts, mail, or scanned documents.
Upload to FTP the converted files instantly. The Upload to FTP feature supports regular FTP and secure SFTP, FTPS, FTPES connections, Proxy Sever connection with Socks4, Socks4A, Socks5, HttpConnect proxy server types and Advanced configurations such as deleting files after uploading, Overwrite/Rename already existing files on the FTP Server and detailed logging to let users and administrator track the uploaded documents.
Agent Printers are duplicate printers based on a Black Ice Printer Driver, each of which can be individually configured allowing on-the-fly printing to pre-defined settings. The Agent Printer section one can create, edit, delete, configure these Agent Printers
Users can specify the creation of several Barcode types on the printed documents. Every aspect of the printed barcodes can be configured, such as Value, Barcode Standard, Position, Alignment, Size, Rotation, and more. (Only available in the ColorPlus X1, PDF X1 and TIFF/Monochrome X1 Printer Drivers
Under the Administrator tab, one can configure the available Printer Manager tabs for All Users on the computer, the Event Viewer Logging, and the Debug Logging.