The Print2Email can be configured for Point of Sale systems. In case of POS configuration, recipients, email subject, email body and the email sending method (SMTP, Exchange, or any other method) could be preconfigured, and when Print2Email is sending an email, a window will appear asking the user to enter the recipients' email address.
This configuration is recommended for both Point of Sale system and for restricted environments since Administrators can preconfigure the Print2Email during installation, while users only have to click to print and send the email.
To configure Print2Email for Point of Sale purposes, go to Print2Email > Email Sending tab > Select the Prompt the User only for email address option.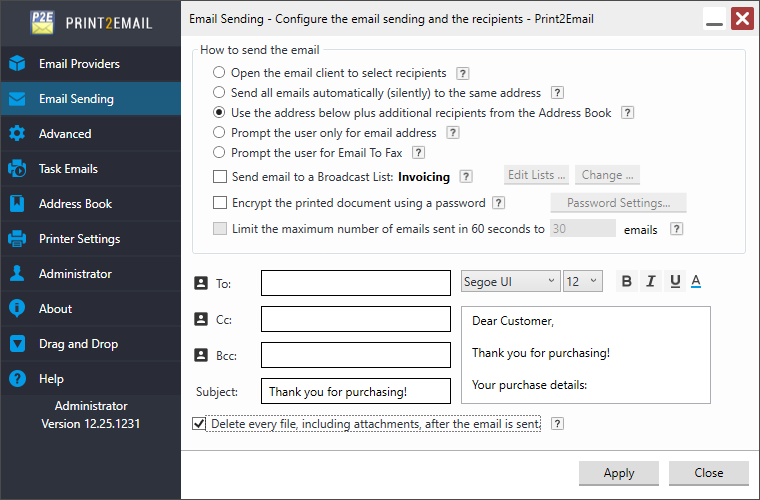 On the Email Providers tab, every provider (Outlook, SMTP, and every major email provider) supports Point of Sale configuration, therefore Administrators can set up any email sending method depending on their company.
When everything is set up, the following window appears at every email sending: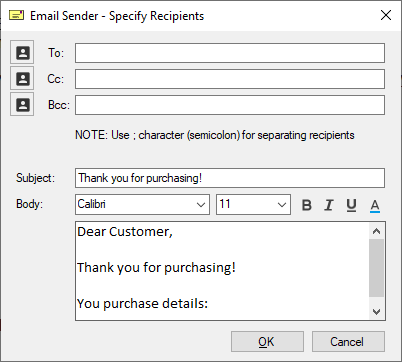 Specify the To, Cc, and Bcc fields, and click on the OK button to send the email.