BiBatchConverter Batch conversion to PDF, TIFF, JPEG
Version number:
The Black Ice BiBatchConverter enables users to monitor a specified directory with subdirectories and automatically convert any files in the specified directory(s) at the scheduled time or immediately.
How to use the BiBatchConverter to batch convert PDF files, MS Office Documents, Images and more...
Run the BiBatchConverter, and configure the desired file output of the printed documents. When it's done, go to the Converter Configuration... > Monitored Directories... to configure the batch conversion settings.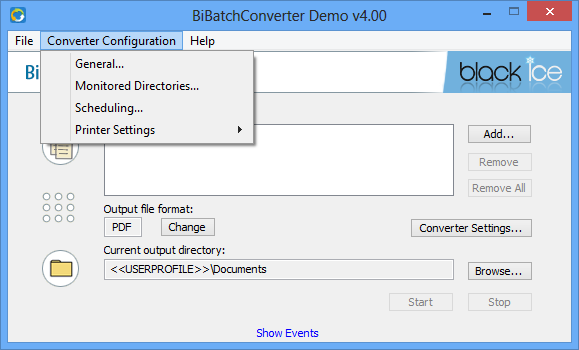 Enable Directory Monitoring and configure the Time interval of the directory monitoring. To select the directory to be monitored, click on the Add button, and browse the desired folder.
Delete files after conversion deletes the converted documents from the source directory, once the document is converted successfully.
Process Subdirectories option converts the documents from the subdirectories of the monitored directories.
Test Directory Access button checks if the selected directories are accessible and writable for the current user.
NOTE: If UAC (User Account Control) is enabled, "Test Directory Access" may not work due to Operating System security settings. Please see online help FAQ.
Map processed subdirectories option mirrors the subdirectories and folder structure from the original monitored directories. This feature can be very useful if the user has several subdirectories and categorized, structured folders. If Map processed subdirectories option disabled, BiBatchConverter converts all the documents without directories into the Output directory.
NOTE: If BiBatchConverter cannot write to the destination folder, the files either get redirected silently by windows into a VirtualStore folder, or the printer driver writes them into the temp directory if it cannot use the proper output directory.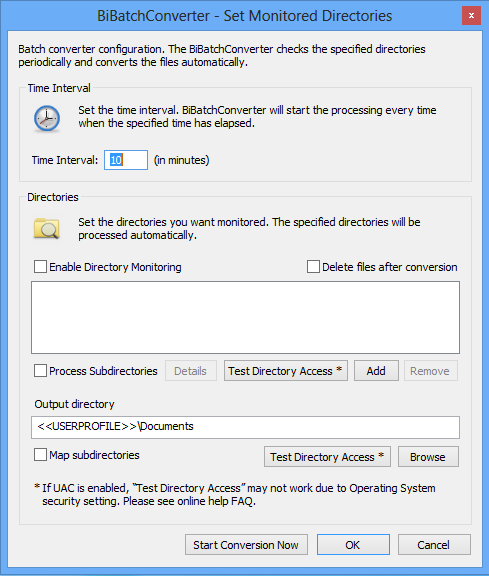 Any supported file placed in the directory will be automatically converted into the specified file format by printing that file to the Black Ice BiBatchConverter. Once the configuration is done, click OK.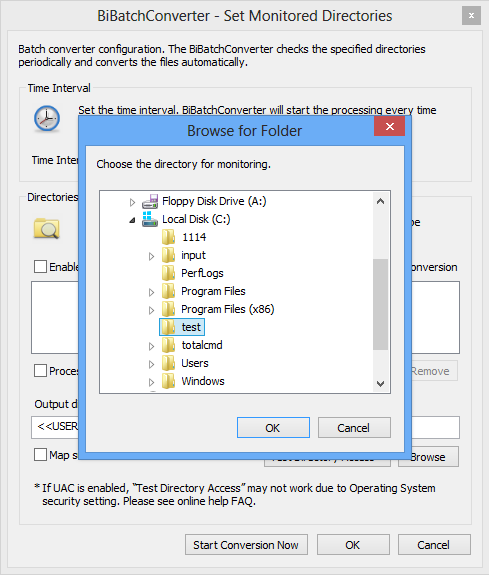 The specified directories will be processed automatically.