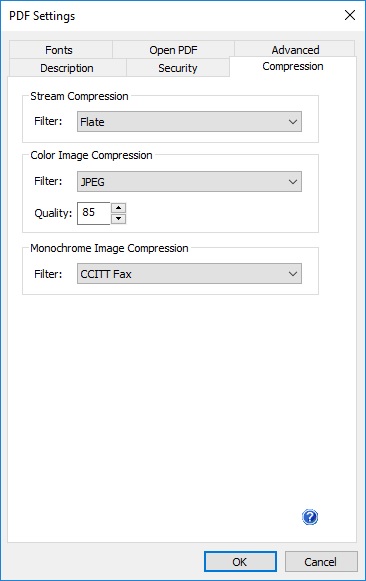 Stream Compression Filter: PDF files store most of the embedded data (such as page descriptors, fonts) in streams. All streams in the document support compression. Setting stream compression formats effects documents the most which use lots of text or 2D vector-graphical content and few raster images
Color Raster Image Compression: The compression type to use on any embedded color raster image. Using the JPEG compression for example, which applies only for color image formats will greatly reduce file size when using many images in a document at the expense of some quality loss.
Quality: Quality of the JPEG compressed images (available values from 1 to 100, where 100 is the best quality)
Monochrome Image Compression: Different compression formats may be used specially for 2 color image formats, i.e.: the CCITT Fax compression format, which offers a great compression ratio but only for monochrome raster images.
Compression Methods