The Black Ice Printer Driver TIFF printing is a dedicated US HIPAA compliant solution to meeting the world's most stringent security and privacy regulations. Black Ice Printer Driver TIFF printing helps healthcare organizations to create TIFF documents, containing confidential information, while complying with HIPAA regulations.
Enabling HIPAA compliant TIFF printing
Go to the Control Panel > Devices and Printers > right-click on the Black Ice Printer Driver > Printing Preferences > File Formats tab > Enable the Generate output in memory option.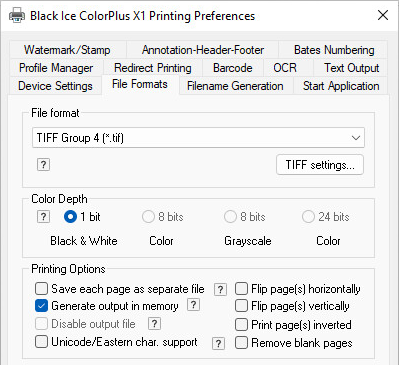 Use the "Generate output in memory" option to generate a TIFF file in memory instead of creating a file on the disk. The printer driver creates the file in memory and then passes the data to an application, through the messaging interface, which can save the TIFF in a database or process the TIFF in memory. To capture the generated output file in memory, one can use the Print to Memory Samples in the Printer Driver Resource Toolkit.
Capturing print jobs in memory with the Print to Memory Sample. For more information please refer to the Printer Driver RTK online documentation.