Black Ice ColorPlus and Color Printer Drivers include an XML printer driver to convert any printable document into an editable, structured, easy-to-read XML file, with text, pictures and graphics. The XML – editable output format if especially useful if mass data processing is needed, or to extract text, images and information into an editable file format from applications where exports don't allowed.
To navigate to the XML Settings, go to the Control Panel > Printers and Devices > right click on the Printer Driver > Printing Preferences... > File Formats tab, select XML – editable and click XML settings…

The following window appears that allows the user to specify a number of settings for the generated XML document.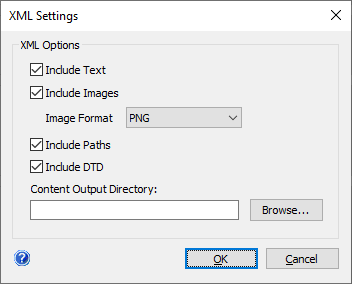 XML Options:
Include DTD option enables including of DTD. DTD is the grammar of an XML page. It is an acronym that stands for Document Type Definition. It contains the elements, attributes, entities, and notations used in the XML document.


Include Images option enables including of image elements. If this option is checked, Printer Driver generates every image from the source document into a folder next to the generated XML file. This option is especially useful to export images easily from a document into a specified format.


Image Format specifies the type of the generated images. Possible Image Format: PNG, BMP, GIF, JPG


Include paths option enables including of path elements, for example lines, curves and polygons.


Include text option enables including of text elements. If this option is checked, Printer Driver includes the text from the source document on the generated XML file.


Content Output Directory option can be used to set the output directory where the folder with the exported images will be created. The folder name to store the image files is the same as the printed file's name. By default there is no path specified, in that case the printer driver will use the current output directory. When a path is specified the driver will use the specified directory for exporting the image files from the printed document.