Remote Print to Local E-mail
Version number:
Combine Print2RDP with a Black Ice Printer Driver or Print2Email to enable Terminal Server users to convert, attach, and e-mail any printable remote document via their local e-mail client!
How does it work?
Using software based on Black Ice Software's award-winning Printer Drivers, local users can convert, attach, and e-mail documents from a Terminal Server session directly to their local MAPI e-mail client, or locally set SMTP mail server! Connect to a Print2RDP Terminal Server and print to the automatically-created virtual printer driver, and watch as your document is automatically converted and attached for e-mail address entry, or even automatically sent to a designated e-mail recipient.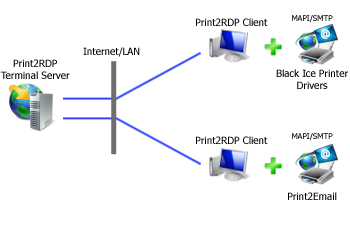 Black Ice Printer Drivers
Black Ice Printer Drivers - the Black Ice Printer Drivers now have e-mailing capability as a post-printing option. Automatically attach and email converted documents via the default email client or a new SMTP message

Print2Email
Print2Email - convert, attach, and email via SMTP or default (MAPI) client using Print2Email (includes User Interface and Address Book features)