Remote Print to Local Faxing
Version number:
When Print2RDP is combined with an Impact Fax product, Terminal Server users can fax both local and remotely stored document with 2 clicks of a mouse!
How does it work?
Each Impact Fax product includes a printer driver, which converts any printed document into Fax format and automatically loads the document for sending. With a fax solution to suite any environment, remote users can enjoy the ease of faxing from their Terminal Server session directly through their local fax line. Once connected to a Print2RDP Terminal Server, Print2RDP will automatically create a virtual printer driver for the fax software, and directs any printed document back to the local client for converting, loading, and faxing the document in one simple and fluid process!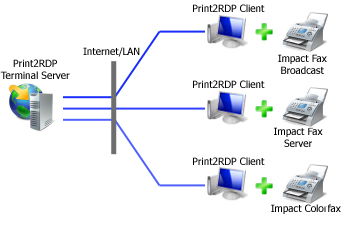 Impact Fax Broadcast
Powerful, standalone fax broadcasting solution. Take your fax marketing to the next level with an easy to use yet feature-rich broadcasting solution for use with any printable local or remote document!

Impact Fax Server
Go paperless with the complete Send/Receive faxing solution for any size office environment. With a centralized fax server and freedom of faxing any local or remote document, empower your users with faxing ANY document, ANYWHERE in the world, ANY time!

Impact Colorfax
Simplified faxing Send/Receive solution for home-based or individual local client faxing