The Tiff Viewer browser Plug-in allows users to view any multi-page TIFF image on the internet using MS Internet Explorer or MS Edge in compatibility mode. A Google Chrome and Microsoft Edge browser Extension is also available by clicking here. Some of the key features of Black Ice Software's TIFF Viewer Browser Plug-in are view, print, save, email, upload to share point, navigate in the multi-page TIFF file, Zoom in or out, and Rotate.
If choosing the Pro Edition of the TIFF Viewer, the TIFF Viewer Browser Plug-in also allows users to view, print, and fill vector/editable PDF files directly in Internet Explorer.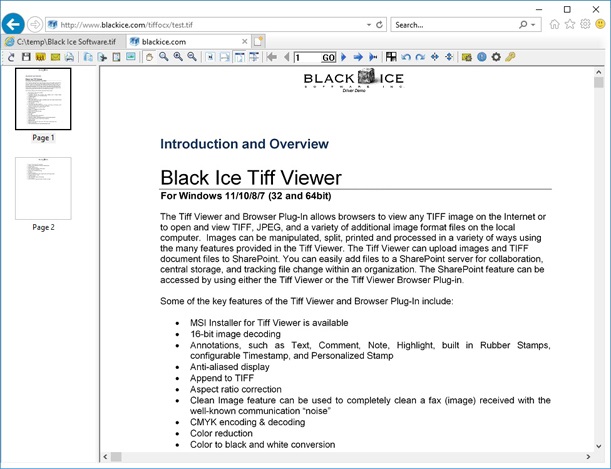 View, Print, Save and Email TIFF files right from your web browser
The Tiff Viewer Browser Plug-in automatically installs for Internet Explorer and activates when an image is loaded in your browser. MSI installer is available for largescale deployment.
The TIFF Viewer and Browser Plug-In is ideal for viewing, editing and printing TIFF and a variety of additional image types. The TIFF Viewer is commonly used for editing and cleaning faxes, browsing the USPTO website, processing and printing digital photos, and much more.
Install the TIFF Viewer with the Browser Plug-In and try it out for yourself. To use a sample file to try out the TIFF Viewer Internet Explorer Browser Plug-In, please click on one of the following links:
Why use the TIFF Viewer Web Browser Plug-In?
Create an archive of important articles.
Easy method for creating and posting documents for the Internet.
Thumbnail Browser for easy navigation between the pages.
Make electronic copies of your documents, letters, notes, etc.
Save or retrieve tiff document files from SharePoint® server
Send documents in email
MODI replacement for Windows and Windows Server
Review online patents, blue prints, faxes and more.
Tiff Viewer supports the following platforms:
Windows Desktops 11/10/8/7
Windows Server 2022/2019/2016/2012
Citrix XenApp (Citrix Presentation Server), XenDesktop
VMware Horizon + ThinApp, VMware VCenter
Microsoft RemoteApp, Microsoft Hyper-V, Hyper-V VDI
Looking to develop an Image Viewer or add Imaging capabilities to a web site? Click here for details on our imaging toolkits