The MSI installer for BiLPDManager designed for large scale deployment in Active Directory environments. With the BiLPDManager MSI installer System Administrators can activate the BiLPDManager without any user interaction, and also can configure the BiLPDManager to start automatically with the Windows. The MSI installer will greatly simplify mess deployment and eliminates the need for customers to build custom installations.
The MSI installer is compatible with Microsoft SMS/SCCM, Zenworks, and Marimba.
The MSI install has the following installation features:


Upgrade the BiLPDManager without reboot while preserving the user settings using the MSI installer
Automatic silent installation
Automatic register/activate the BiLPDManager with a serial number
Configure installation target directory
Configure the registration of the BiLPDManager with Black Ice license server:

443 port with SSL (default)
80 port without SSL
3500 port without SSL
15000 port without SSL

Configure the connection to license server with proxy server

Not using proxy server (default)
Attempt to discover automatic proxy
Use HTTP proxy
Use SOCKS proxy

Start BiLPDManager with Windows starts up.
For example:
msiexec /i "[PATH]\BiLPDManager.msi" /q TARGETDIR="C:\Black Ice\BiLPDManager" REGNUM=XXXXX-XXXXXXXX-XXXXXXXXXX
Please contact sales for more technical details on the MSI installer at sales@blackice.com.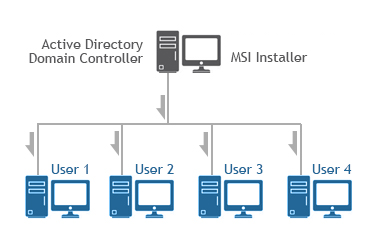 Supported Installation methods using Group Policy Deployment;
Assign to Computer (silent install)
Assign to User (silent install)
Publish
Additional supported installation method;
Installation from command line (cmd.exe)
Requirement;
.NET framework 2.0 or 3.5
For MSI Installer availability, contact sales@blackice.com.