Impact Fax Broadcast is a specialized software application designed for reliable high volume fax broadcasting. Based on Black Ice Software's award winning open architecture, Impact Fax Broadcast is fully scalable from a single port/line up to 384 ports/lines; and is not tied to a specific fax hardware manufacturer and supports a variety of hardware including fax boards from Brooktrout, NMS, Dialogic and GammaLink. Impact Fax Broadcast is recommended for organizations of all sizes, from small businesses to large enterprises, that regularly use fax broadcasting for their administrative and marketing projects. Impact Fax Broadcast is a cost-effective, scalable and reliable software solution.
Send Color or black & white faxes...or both!
Impact Fax Broadcast can send color or black & white faxes to any number of fax numbers. When sending a color fax, Impact Fax Broadcast can automatically detect the receiving end's fax capabilities and if the recipient cannot receive a color fax Impact Fax Broadcast will automatically convert the color file into black & white to send to the recipient.
Supports a wide variety of Fax Hardware
Impact Fax Broadcast supports a wide variety of fax hardware, from off of the shelf fax modems to high end intelligent fax boards. For a complete list of supported fax hardware and vendors, please refer to the Supported Fax Hardware list.
Personalize your faxes with custom fax headers and cover pages
Impact Fax Broadcast allows you to customize your fax messages to match the needs of your recipients. Personalize sender names, recipient names, images/logos, entire cover pages , customized fax headers and more -- an huge set of fields means it's as personalized as you need it to be.
Fax Broadcast management
View the status of your fax broadcasts while it runs! Start, pause, view and delete your broadcast jobs with the click of a mouse.
Statistical Fax Broadcast reporting
Track your fax broadcasting activity through intelligent logging, including the status of successful, unsuccessful, pending and in-progress faxes.
'Do Not Fax' lists
If a recipient of one of your faxes ever asks to be excluded from your future broadcasts, simply place their fax number in your Remove list. Any future fax broadcast can be filtered against your remove list to ensure that the Impact Fax Broadcast will skip delivery to that particular fax number.
Track your undeliverable faxes
Once the Impact Fax Broadcast has finished, you can then manage all of your undeliverable fax numbers so you can keep your fax lists up to date and ready for your next fax broadcast.
New Features!
Test Phone Book feature
Automatic Bad Number Removal
Duplicate fax number removal
Impact Fax Broadcast's key features include:
Convert any printable file into a faxable format
33.6K (V.34) Faxing support
Time & date activated broadcasting
Schedule multiple fax lists in a single broadcast
Schedule multiple fax lists for broadcast with different start times
Customizable Fax Header for every fax
Customized cover page for every fax
Phonebook, export/import data, search phonebook option
Transmission Error reports
Intelligent retries
Add Annotations to any file
Port Scheduling to automatically open and close ports at specified times
Simple Installation
Real time port statistic, especially useful when using more then 1 fax line
Auto open and close ports
Close and open ports during fax broadcast
Billing. Log file generation with timing information for Billing
E-mail activated fax broadcasting
Check for a dialtone when opening port/channel
Open and convert any Microsoft Office or PDF file directly from the Impact Fax Broadcast application
"Dial before every outgoing fax" feature to dial strings such as "9," or *67 before every outgoing fax
Intelligent long distance dialling/local area code detection
Automatically dial a '1' before every long distance fax number
Use a calling card for all outgoing faxes
Vonage phone service and hardware compatible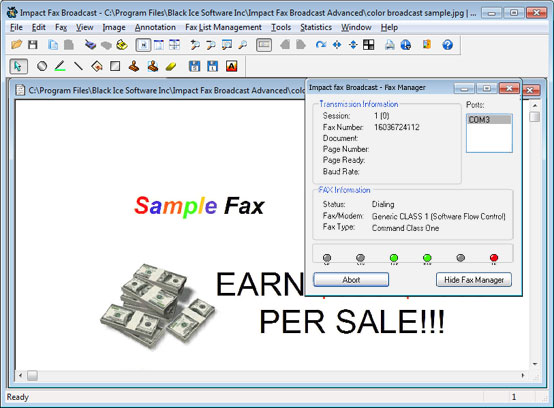 Powerful annotation features and an easy to use interface are just a few of the Impact Fax Broadcast features
Impact Fax Broadcast supports the following platforms:
Impact Fax Broadcast comes in the following configurations: